DETAIL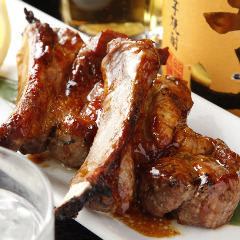 【Drinking party / entertainment】 "3 H drink All you can drink × dice steak & hot pot course" <9 items> 5000 yen ⇒ 4000 yen (tax included)
4000 yen
3 hours drinks are all-you-can-eat course from 4000 yen ♪ prepared with courses with exception pot ◎ You can drink all-you-can-eat for 2 hours at the weekend OK ♪ Local chicken and Japanese Wagyu Please also appreciate charcoal grilling which boasts of using! Please correspond to various scenes such as party, drinking party, girls' association, welcome party, farewell party etc!
Menu

★ [Slow dividend] Further courses 500 yen OFF at arrival after 21:00
★ 【Birth month special benefit】 Dessert plate presentation (Message not included)
★ 【Mr. Secretary】 One member of the organizer is free for booking of more than 10 people!
◇ ◆◆ ━━━━━━━━━━━━━━━━━━━━━━━━━━━━━━━━━━━━━━━━━━━━━━━━━
[1] daily appetizer
【2】 Organic vegetables and Caesar salad
【3】 2 sashimi sashimi assorted
【4】 dice steak
【5】 Popular · Satsuma chicken rock salt roast
【6】 Pot of choice
· Beef tenderloin OR chicken crab pot
【7】 Miscellaneous cooking set
【8】 duck roast
[9] season of desserts
You can change to all you can eat hot pot at + 500 yen !!
It is possible to change to Cheese Taccarbie at + 600 yen !!
━━━━━━━━━━━━━━━━━━━━━━━━━━━━ ◆ ◆ ◇
If you can not choose a pot, it will be a pot with beef so please contact until the day before your visit.
The contents may be changed.
Cancellation after booking a reservation may cause a cancellation fee.For details, please confirm by telephone.